UNIVERSITY PARK LOCKSMITH – WHAT TO DO WITH OLD KEYS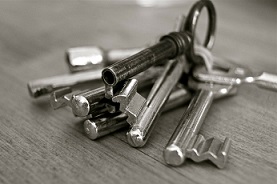 Old keys. We all have them. They're floating around in our kitchen junk drawers, sitting in a dish on our counter along with spare change or other trinkets, or maybe even still hanging on our key rings. It's remarkably easy to amass a small collection of these old keys. Whether they're for homes you don't live in or cars you don't have or locks you can't find, the question is always this: what do you do with those keys? Don't just throw them away! University Park Locksmith has several creative and unique ideas for what to do with your old keys.
AROUND THE HOUSE
If you think your old keys are only good for adding junk to your junk drawer, think again! There are several ways you can put your old keys to work around your house.
Clean your shoe treads – It's a dirty job that can take a long time to try to do using just your fingers or a towel. Keep an old key near where you take your shoes off, and use it to get in between the treads on your shoes for a more thorough – and much easier – tread-cleaning process. Kids who hate to clean their own shoes will get into the chore when they get to use a fun tool that easily fits in their hands to do it!
Open bottles – Keep an old key or two handy near a beer cooler at your next party. They make really clever and very effective bottle openers for your guests' beer, and will give your guests something to talk about.
Weigh down balloons or tablecloths – When you bring home a bunch of helium balloons for your next party and you realize you forgot to purchase something to keep them from floating away, reach for your old keys to save the day. Tie the keys together and then tie that group of keys to the bottom of the balloon strings to keep them grounded to the table. Likewise, if you're having your party outdoors, consider taping old keys to the underside edges of tablecloths to keep them weighed down instead of blowing in the wind.
Distress furniture – If you're looking for a really distressed look, put your old keys to work. Tie several together and then tie the group of keys to the end of a string. Swing the keys against the piece of furniture you're distressing and you'll have an authentically distressed looked very quickly.
These days it's all about upcycling and how we can use and reuse what we already have instead of going out and buying new things. Your old keys can be part of that new trend.
Make hooks for your current keys – What's more creative than using old keys as hooks for your new keys? Using your pliers, bend the old keys into a curved shape and attach them to a block of wood for a clever set of key hooks.
Create a wind chime – Take your old keys and hang them from strings or chains to build a unique wind chime. Get your kids to help you paint the keys different colors before you hang them for a fun and funky set of chimes, or leave them as-is for an antique look.
Use them as magnets for your fridge – Take small, stick-on magnets that can be found at any craft store and attach them to the backs of your old keys. Voila! You have a fun and fresh way to hang kids' artwork, your latest recipe, or the business card for the University Park Locksmith rep who saved you when you locked yourself out of your house or car!
Create a piece of art showcasing the places you've lived– If you're the family that moves around a lot, this is the perfect gift for you. Mount your keys on a fabric-covered corkboard with little nameplates underneath each, commemorating the houses that you've lived in together. Alternatively, for the car enthusiast in your life, mount his old car keys in the same way and surprise him with a fun decoration for his office.
Decorate yourself with key jewelry- Keys are very trendy in jewelry today and are even popping up on celebrities. The keys hang on long chains and are often stamped with a date or a name to commemorate a special event in the life of the wearer. Take your favorite key to a local engraving place and work with an engraving expert to get the look you want with the word or words you want. It will be a gift to treasure forever.
RECYCLE TO HELP OTHERS
In a throwback to the the 1900s when scrap metal was collected to recycle for war efforts, there is a renewed push to scrap keys in much the same way today. Organizations like Key for Hope will take your old keys, sell them for scrap, then donate the money to the charitable organization of your choice. It's that simple! Key for Hope will even send you kits to help you run a successful key drive in your area. Key drives are a simple and effective way for kids to get involved in giving back. If your friends and neighbors all donate their old keys, a lot of money can be raised to help those who are hungry and in need. And it's not just keys that can be recycled. Ask your University Park Locksmith rep for a list of other key-related items you might have in your home that could be recycled as part of this effort.
It's easy to throw away old keys, especially if you've tried them in every lock in your house and just can't figure out where they go! But before you toss them, take a good look at them and think about these clever ways they can be used to make a difference in your home and even in the lives of people in need in your community.