WEATHER CHANGES AFFECT DOOR LOCKS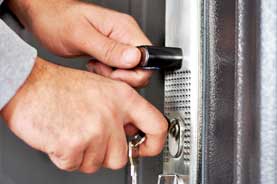 Something as simple and ever-present as the weather can affect our door locks. It's well known that our moods and habits can be affected by the weather. Who hasn't felt down and listless during an overcast day? Who doesn't want to grab a sweater or hoodie when relaxing during a chilly evening? Weather also has an effect on door locks.
This surprises many as they tend to think of locks being practically indestructible; being made of metal, and all. Here in University Park, TX weather can range from very hot summers to cold, brisk winters and even the sturdiest door locks can be affected.
Warm weather
We get some good, hot summers and warm spring weather in our community. Our door frames and locks get used to this temperate weather but then it starts to get cooler and this can cause some door frames to swell. When this happens locks can get stuck. This is because the lock's bolt has trouble fitting in the swollen door frame and depending on the fit, it can be difficult to open and close the lock.
Cold weather
Those same door frames can contract instead of expanding during colder months. This happens not only here in Texas but everywhere. It can be difficult to turn a key in a lock when the frame has contracted and this often leads to key breakage. Not only is this stressful and time consuming, it can be a bit costly as you now need two locksmith services; key extraction and new keys cut. A short term remedy for this is to simply pull the handle of the door knob firmly thereby re-centering the lock with the door frame, making the key easier to turn and thus reducing the risk of key breakage.
Cold car locks
Our University Park Locksmith shop often gets calls during winter months. The callers are having issues with their auto locks. Cold winter weather can affect any kind of lock but since our cars, trucks and service vehicles are outdoors much of the time, cold weather can affect them even more so. When water or moisture gets into the lock and freezes, it can prevent the key from inserting properly.
This can also jam up the remote opener system, as well. Some recommend that you pour hot or boiling water over the lock in order to melt the interior frozen moisture. We do NOT recommend this action as you can cause damage to your locks in the process.
Lock maintenance is important
A correctly installed, well maintained lock will function better in any season; not just the mild ones. Do a routine check of your door locks and see if they are functioning right and installed firmly. If you have locksmith service for routine maintenance, or for a needed repair, have your technician look them over and service them wherever needed. Always use a licensed, bonded and insured lock professional for the best results. You can use our shop or one in your neighborhood that offers round the clock mobile service at good prices. Your lock technician will be able to recommend all-weather treatment and care for your home, auto and business locks, especially those that are exposed to cold winters and hot summers. If your wood door frames become a problem, you might consider replacing them with non-wood ones made of fiberglass, aluminum or steel.
Do you lubricate your locks?
Locks should be lubricated once a year or more and this is especially true for those exposed to weather extremes. Ideally, your lock should be disassembled and the insides sprayed with a lubricant. If you feel handy or have experience doing this, do the job yourself.
If not, you can always hire a local locksmith to do the work for you. Many offer affordable prices and same day service. Often, you can get sizeable discounts by signing up for a lock maintenance program that involves yearly or multiple visits. Well lubricated locks react better to weather changes and even to extreme hot or cold spells.
Do it yourself, budget lock lubrication
Do you want to save money and still have clean, well lubricated locks? Here's how. Get yourself some Graphite or Teflon spray lubricant. We discourage the use of any petroleum based product so try and stick with the above recommendations, if you can. Spray some of this into the key slot and then insert your key. Remove it and wipe the key blade clean. Repeat several more times. While this exercise is not as effective as removing the lock and disassembling it, and then lubricating the pieces, at least you don't need a lock professional or a lot of time to do this simple, yet effective exercise.
Watch out for old locks!
How old are your door locks? Weather changes can wreak havoc on older or damaged locks. Going from hot to cold and back again can ultimately render older locks nearly useless. If your deadbolt is hard to turn, or you are experiencing key sticking, it may be due to your aged or worn locks having trouble coping with the changes in weather. In cases like these, lock replacement is recommended.
Have locksmith service ready to come
Do you need a locksmith right now? If so, call one. You are always welcome to call our shop but if you have another one that you've had a good experience with; give them a call. Even if you don't need a lock technician at the moment, it's always a good idea to be ready for situation that may come up. With the onset of summer or winter, it's smart to be proactive and ready; just in case.
You can do this by selecting two or three locksmith shops that meet your criteria for good service and real credentials. Add them to your mobile devices and those of your loved ones or close associates. Look for affordability, licensing, mobile assistance, 24-hour emergency help, quality hardware and auto, home and business services and lock products. A good locksmith is good to have nearby no matter what the temperature is outside!